Season 1
*
Season 2
*
Season 3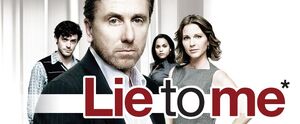 Lie to Me
(sometimes stylized as
Lie to me*
) is an American television midseason replacement that premiered on the FOX television network on January 21, 2009. The main character,
Dr. Cal Lightman
(portrayed by
Tim Roth
), aided by his colleague
Dr. Gillian Foster
(portrayed by
Kelli Williams
), detects deception by observing body language and microexpressions through the
Facial Action Coding System
, using this talent to assist various clients (such as law enforcement, among others)...
Read more...

Welcome to the Lie to Me Wiki!
The free encyclopedia dedicated to the hit TV show Lie to Me that anyone can edit!
Anyone can edit?
Absolutely! This site is what's known as a Wiki and as such can be edited by anyone! Editing is easy and you don't even need an account! See Help:Editing for more information.

What's a Wiki?
A Wiki is defined as a "website that allows users to collaboratively create and edit web pages using a web browser." For an explanation on how to edit this and other Wikis please see this page. If you'd like to jump straight in and make some test edits go to this page and click the "Edit this page" link at the top left hand side of the page.

This Wiki is a continuous work in progress; it currently only has 105 Lie to Me-related articles so all contributions are greatly appreciated!
Love Lie to Me? Why not create an account and join the community!
Get Involved! Enter the name of a character, episode or anything else Lie to Me related into the box below and click "create" to create a page on the Lie to Me Wiki.
<createbox> width=50 </createbox>

Facial Action Coding System—
The Paul Ekman Group, LLC
. Seven years in the making, it was originally developed by
Paul Ekman
and two colleagues after many years of work discovering the universal emotions of the human face. The results have culminated in a manual that is now used by law officers, doctors, performers and is becoming increasingly popular with teachers.
Read more...

Refresh
*
Read more...

Lzbth
•
wow it's been a while since this wiki has been updated... and this blog section is pretty old too. 
we need a list of pages that we dont have, even minor characters are important. characters that are …
See more >
---
Click a photo to read more about that episode.