Brendan Hines
 is an actor and singer-songwriter. He has had a number of television roles, including recurring roles in 
Scandal
, 
Betrayal
, 
Suits
, 
Scorpion
, 
Secrets and Lies
 and is currently part of the cast of Amazon Video's 
The Tick
. Hines has also had leading roles in a handful of films, and released three albums. Most commonly known for playing
Eli Loker
 on
Lie to Me
and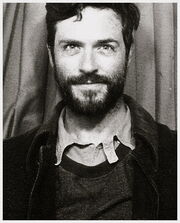 Logan Sanders on the USA Network show Suits.
Early Life
Edit
Hines was born the youngest of four children on December 28, 1976, in Baltimore, Maryland, where he graduated from Loyola Blakefield. His mother, Mary Hines, was a former nun and his father a former Jesuit priest who both appealed to dissolve their religious vows so they could marry. They left Brooklyn and eventually settled in Baltimore to teach philosophy. His mother was president ofCarlow University in Pittsburgh.
Hines' acting career began on-stage where he performed in several plays in New York. His first major film role was in the 2001 independent film Ordinary Sinner. In 2004 and 2005, he appeared in one episode each of both Angel and Love, Inc., respectively. In 2007, Hines starred in Heavy Petting opposite Malin Åkerman. One of his first major television roles was portraying Andy Goode in several episodes of the Terminator television series, Terminator: The Sarah Connor Chronicles. Hines went on to play a recurring role in The Middleman. He then returned to film in Deep in the Valley (2009) co-starring Chris Pratt.
In 2009, Hines began appearing as part of the regular cast of Lie to Me. Hines was part of all three seasons of the series playing the character of Eli Loker. In 2011, he appeared in an episode of Castle. In May 2011, Hines portrayed the dual characters of Pip/Theo in South Coast Repertory's theatre production of Three Days of Rain. Hines has stated this was perhaps his favorite and most challenging acting role.
In 2012, he appeared in an episode of Body of Proof and also began appearing in a recurring role in first season of Scandal. In 2013, he gained a recurring role in Betrayal. In 2014, he played Logan Sanders in the fourth season of Suits. He has also appeared in several episodes of Scorpion and the second season of Secrets and Lies.
In August 2017, Amazon Video released the first season of The Tick, a television series based on the comic book of the same name written by Ben Edlund. Among the many ridiculous comic book characters in the series, Hines portrays Superian who is perhaps the most recognizable as an archetypal superhero.
Personal Life
Edit
Edit to add content